The Matterhorn Group is the leading hotel and restaurant company in Zermatt. Operator of some of the most iconic hotels in Switzerland it continues to offer its guests an unparalleled 'Matterhorn' experience in terms of location, service and history. Our range of hotel and restaurant brands is diversified: from mountain huts to 5 star hotels to pizzerias and Michelin starred restaurants, each appealing to customers who seek authentic experiences that offer added value.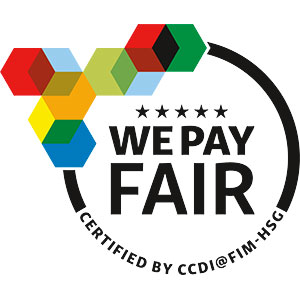 The salaries of all our employees have been analysed and deemed fair by the Research Institute of International Management at the University of St Gallen.
We work with TOP 'Training Company' to continuously ensure that our training of young apprentices prepares them for professional life and eventually becoming a specialist in their chosen field.
Our staff survey is open to all our employees to have their say and speak their mind. We neither influence, nor prejudice the survey results and always openly publish.
From hidden champion to sustainability leader: Switzerland has been at the forefront of sustainability for years. The new sustainability strategy of Switzerland Tourism (ST) seeks to inform the public with this label.
Environmental Report 2022
The Matterhorn Group AG is committed to sustainable development and defines goals and measures to achieve this across its value chain. Included are energy saving measures, protection of natural resources, waste management and recycling, climate protection and reduction of carbon emissions.
This label recognises the best performing and most committed companies in the Valais region. It was created as a sign of recognition for companies that are managed according to principles of sustainable development and continuous improvement.
ISO 14001:2015 Environmental Management
The Matterhorn Group is ISO 14001:2015 certified by the Swiss Association for Quality and Management Systems (SQS). It follows a dedicated sustainability policy including energy saving measures, waste management and recycling, as well as reduction of carbon emissions.
ISO 9001:2015 Quality Management
This standard sets out globally recognized standards for an excellent quality and management system. The Matterhorn Group was awarded this certificate.
Passion
We always display passion & joy when interacting with guests
Team spirit
We believe a positive attitude is key to our team spirit.
Always learning
We strive for excellence and always seek to learn and develop.